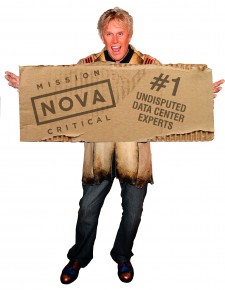 Austin, TX, July 13, 2016 (Newswire.com) - We are only one week away from the 2nd Annual Data Center/Austin Conference! DC/AC 2016 will be happening July 19th-21st at the ACL Live Moody Theater in Austin, TX. You don't want to miss this!
DC/AC 2016 is the Anti-Data Center Conference of conferences! NOVA Mission Critical strives to make this conference different and unlike any experience you have had before. DC/AC 2016 will bring together the most relative and innovative 'Thought Leaders' in the Industry, all under one roof. At DC/AC 2016, you will NOT come to listen to vendors talk about how they are better than other vendors. Instead, you will hear operators discuss: What are they doing? How are they doing it? Why are they doing what they do?
DC/AC 2016, Live at the ACL Moody Theater, is THE conference to spotlight your company in an extraordinary environment, and the place where you can share what you do best with the most important end-users in the Industry. In regards to the conference, Kirk Offel, Executive Vice President of Strategy at NOVA Mission Critical shares, "We have invited many of the frontrunners in our Industry, that inspire groups like ours, to help us revolutionize the way our Industry shares our tribal knowledge.  We believe that if we can create an environment where innovative ideas are thrown about and new information is freely exchanged among experts, we can leverage that same environment to allow people to network with vendors and make new connections.  We have invited people that have spent decades pushing the boundaries in our Industry.  We believe that their participation at our event we will help shake the traditionally stale trade conference and inject some energy back into our Industry - Energy that will positively lead to an advanced level of ideas exchanged." 
In addition to the innovative discussion panels, the event will include an open bar, celebrity guest speaker: Gary Busey, two amazing bands: The Dan Band and John Gaar, on- site cigar roller, shoe-shiner, straight-razor barber, great food, and plenty more entertainment throughout the evenings. 
Participating in this year's conference: Rosendin - IES Communications - Mitsubishi Electric - FSG - Fortrust - ECR - OnRamp - TrendPoint - Stream Data Centers - DataGryd - PCE - RamTek - fifteenfortyseven Critical Systems Realty - AMS Mechanical Systems, Inc. - Aligned Data Centers - Toshiba - CyrusOne - Quality Uptime Services - Data Foundry - SkyBox - vXchnge - ECS - Icarus - Vantage Data Centers - Google - American Electric Power - IBM's SoftLayer - Microsoft - Zayo Group - NTT America - QTS Realty Trust, Inc. - T-Mobile - Bloomberg LP - Black Rock - DuPont Fabros Technologies - CenturyLink Technology Solutions - and many more will be in attendance!
It's not too late! You can still register here: www.OperationNOVA.com/DC-AC-2016
What are you waiting for?
Source: NOVA Mission Critical