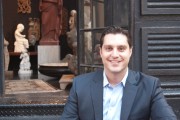 NOVA Mission Critical, a leading global builder of Data Center and Colocation solutions, today announced the appointment of a new Executive Vice President of Product Delivery - Michael Maldari.
Englewood, NJ, October 12, 2015 (Newswire.com) - Mark J. DiStefano, NOVA's Chief Executive Officer said "Since our establishment over 89 years ago, NOVA has operated on a solid foundation of personal character and strong executive leadership. I have taken a number of steps to further strengthen our executive team as well as protect that heritage with this latest addition to our team. We very much look forward to strengthening our product offering by having Michael on our team."
Edward Stewart, NOVA's President added "NOVA's clients have come to recognize these qualities as operational standards within NOVA's ethos. Michael brings an extensive track record in the Mission Critical industry, with a multi-faceted skill set and a standard of personal and professional integrity that precisely matches the NOVA way. With the addition of Michael we now offer our clients a completely different experience to operational delivery."
As we sharpen our focus on the present and future, we are very excited to maintain that level of integrity and expertise by bringing Michael Maldari to the NOVA family.

Edward Stewart, President
As Executive Vice President of Product Delivery Michael will be responsible for Operations, Engineering and Estimating for NOVA globally. Michael comes to NOVA from a very successful career with Syska Hennessy Group where he held senior leadership positions in their consulting, engineering and commissioning practice. Michael will be based in NOVA's new NY Corporate Headquarters and will report directly to Mr. Stewart.
About NOVA - NOVA Mission Critical is one of the premier global technology builders in the Data Center industry. NOVA was established in 1926 as a General Contractor but has spent the past 30 years specializing in the design and construction of some of the most innovative retail colocation, wholesale colocation and enterprise data centers in the world. NOVA Mission Critical has built and delivered over 8 Million square feet of cutting-edge Data Center space for some of the industry's leading providers such as CenturyLink, Digital Realty, Equinix, CyrusOne, DataGryd, Yahoo and many others. NOVA Mission Criticals unique ability to adapt with the ever changing marketplace is why they remain an industry trailblazer to this day.
Share: