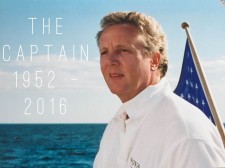 Nyack, NY, November 18, 2016 (Newswire.com) - New York-based Data Center builder, NOVA Mission Critical, regretfully announced that Mark J. DiStefano, third generation Patriarch and Chairman Emeritus, passed away yesterday after a brave and courageous battle with amyotrophic lateral sclerosis, better known simply as ALS.
Earlier this year, Mark transitioned into the honorary position of Chairman Emeritus for NOVA. His son-in-law and previous President, Edward Stewart, assumed the helm of NOVA as the new CEO, and Kirk Offel was named the new President.
"Mark DiStefano was truly one-of-a-kind, and our Industry has suffered a great loss."

Peter Gross, Vice President, Mission Critical Systems at Bloom Energy
Mark DiStefano was well known in the Industry as a highly energetic and inspiring visionary whose passion and drive were the genesis of countless successful projects, including laying standards on how Data Centers are built to this day. Mark was the consummate leader; he selflessly provided professional mentorship to an untold number of people who have further advanced their careers as a result of his leadership.
Continuously focused on advancing the approach in which Data Centers were created, Mark developed partnerships and long-standing friendships with many of the most respected names in the Industry, such as longtime friend and Industry titan, Peter Gross, PE, Vice President, Mission Critical Systems at Bloom Energy. When notified of the passing of his friend, Peter simply said, "Mark was one of the greatest contributors to the Data Center Industry that I have ever known. Mark was the most honest, most generous and most likeable guy I ever knew. Mark DiStefano was truly one-of-a-kind, and our Industry has suffered a great loss. I will miss my friend."
In addition to being a dedicated family man and exceptional entrepreneur who improved the lives of countless people, Mark was a fearless mariner whose love and connection to the sea ran deep. Longtime friend and fellow sailor, Tom Furlong, Vice President, Infrastructure at Facebook, Inc., upon being notified of his friend's passing, said, "Mark was one of the most upstanding and enthusiastic individuals that I have ever met. My professional relationship with Mark began when the Data Center Industry was initially taking shape, during the rapid growth of Exodus Communications. Our friendship grew beyond our professional respect for each other and toward our shared passion for sailing. It was an honor to race to Bermuda with Mark on multiple occasions. Our Industry lost a great man today, and I lost a good friend. Fair winds, my friend."
NOVA Mission Critical would like to thank the many people who have shared their support during this sorrowful time. Mark is survived by his cherished wife, Maggie, his adored daughters, Alexis and Caitlin, and his precious grandchildren, Riley (9), Parker (4), Rhys (2) and Penn (two weeks).
Mark's Memorial Service will be held on Tuesday, November 22nd at Gaustavino's, which is located at 409 E 59th St, New York, NY 10022 from 11am - 2pm EST.
Condolences may be sent to - Attention: The DiStefano Family, 14 Sutton Square, New York, NY 10022
* In lieu of flowers please make a donation to Hudson River Community Sailing in Mark's name at: https://hudsonsailing.org/
About NOVA – NOVA Mission Critical is a team of Data Center Experts with an exclusive focus on LIVE Data Center retrofit and expansion construction projects. NOVA was established in 1926, but has spent the past 30 years specializing in the design and construction of some of the most innovative retail colocation, wholesale colocation and enterprise Data Centers in the world. NOVA Mission Critical has built and delivered over 8 million square feet of cutting-edge Data Center space for some of the Industry's leading providers such as CenturyLink, Digital Realty, Equinix, CyrusOne, DataGryd, Apple, Yahoo! and many others. NOVA Mission Critical's unique ability to operate efficiently and successfully within live Data Centers is what separates them from their competitors.​
Source: NOVA Mission Critical
Share: